5 Reasons to Add a Putting Green to Your Outdoor Living Space
Golf enthusiasts and casual players alike know that the game requires practice, concentration, and a touch of elegance. What if you could bring the golf course to your backyard? Texas Landscapes presents five compelling reasons to add a putting green to your outdoor living space, offering both leisure and luxury right at your doorstep.
Putting greens are not just reserved for golf clubs and professional courses; they have become a trendy feature in residential landscapes. By adding a putting green to your outdoor living area, you not only enhance the aesthetics but also create a functional space that caters to various interests. Let's explore why this feature is worth considering.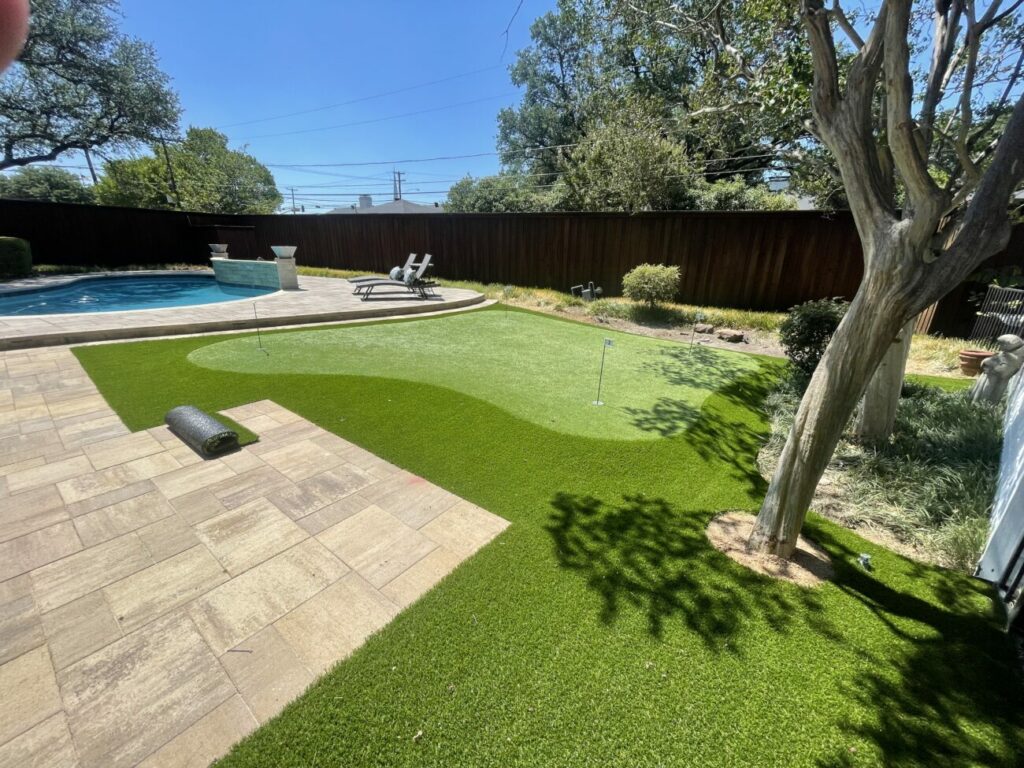 1. Improve Your Golf Game
Practice Makes Perfect
A backyard putting green provides a convenient space to practice your putting skills. Whether you're a seasoned golfer looking to improve or a beginner wanting to learn, having direct access to a putting green allows for daily practice.
Customized to Your Needs
You can design the putting green to mimic the conditions of your favorite golf course or challenge specific areas of your game. The customization options are endless!
2. Entertainment and Social Engagement
Host Golf Parties
A putting green is a unique entertainment feature that allows you to host golf-themed parties and gatherings. Friends and family, regardless of their golfing abilities, can enjoy a friendly competition or casual play.
Engage with Family
It provides a fun way to engage with family members of all ages, from teaching your children to putt to enjoying a relaxing evening with your partner.
3. Enhance Property Value
A Unique Selling Point
A well-designed putting green adds a distinctive feature to your property, making it stand out in the real estate market.
Aesthetic Appeal
Beyond its functionality, a putting green adds visual interest to your landscape. With professional design and installation, it can seamlessly blend with other outdoor features, enhancing the overall appeal of your property.
4. Therapeutic Benefits
Stress Relief
Playing golf, even on a small scale, requires focus and concentration, offering a form of mindfulness that can reduce stress and promote relaxation.
Physical Exercise
While it might not be as strenuous as other sports, practicing on a putting green does provide gentle exercise, improving hand-eye coordination and promoting overall well-being.
5. Environmentally Friendly Options
Low Maintenance
Modern putting greens can be constructed with artificial turf, offering a low-maintenance option that requires no watering, mowing, or fertilizing.
Water Conservation
By choosing artificial turf, you contribute to water conservation, making your putting green an eco-friendly feature of your landscape.
Adding a putting green to your outdoor living space is not merely about playing golf. It's about creating a versatile area that encourages relaxation, social interaction, personal development, and even environmental consciousness.
At Texas Landscapes, we specialize in designing and installing customized putting greens, tailoring them to fit your specific needs and style preferences. Our team is committed to delivering quality, ensuring that your putting green not only looks great but also functions flawlessly.
Ready to take your outdoor living space to the next level? Contact Texas Landscapes today to start planning your backyard putting green. Whether it's a golfer's paradise or a unique entertainment space you seek, we are here to turn your vision into reality. Visit our website or call us to explore the endless possibilities of outdoor living with a touch of golfing elegance!