Enhancing Your Outdoor Space with a Custom Pergola
Outdoor spaces are an integral part of the home, offering a sanctuary to relax, entertain, and enjoy nature. A custom pergola, designed and installed by Texas Landscapes, can transform your outdoor area into a stylish, functional, and inviting extension of your home. This article explores how a custom pergola can elevate the aesthetics and usability of your outdoor space.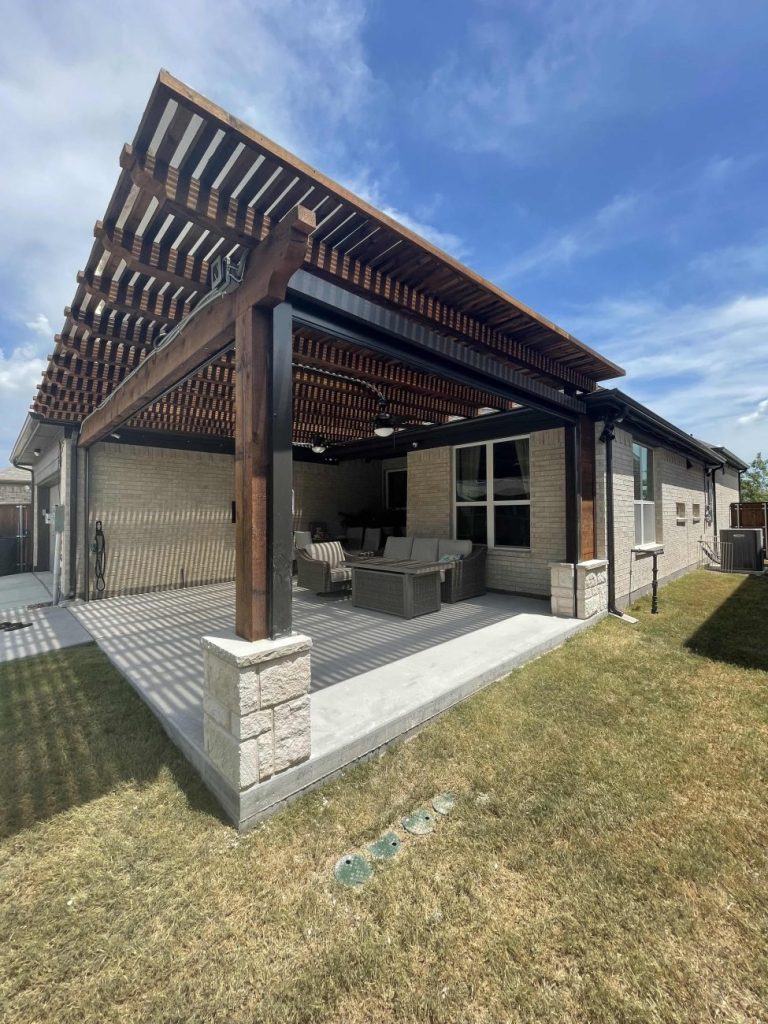 The Appeal of a Custom Pergola
A pergola is an outdoor structure, typically consisting of vertical posts or pillars that support cross-beams and a sturdy open lattice. The charm of a pergola lies in its versatility. Whether you want to create a shaded walkway, a garden feature, or an expansive outdoor lounge, a pergola offers endless possibilities.
Custom pergolas, specifically, give you the freedom to design a structure that suits your unique requirements and complements your home's architectural style. You can choose the materials, size, layout, and design details, ensuring that the pergola is a true reflection of your personal taste and lifestyle.
Benefits of a Custom Pergola
Increased Home Value
A custom pergola can enhance the curb appeal and value of your property. As per the Cost vs. Value report, outdoor structures like pergolas often provide a substantial return on investment when it comes to selling your home.
Defined Outdoor Space
A pergola effectively creates a defined space in your outdoor area for dining, lounging, or entertainment. It gives you the feel of an outdoor room without confining walls.
Added Shade and Comfort
Although a pergola does not provide complete cover from the sun, it offers enough shade to make your outdoor space comfortable during the warmer months. You can also increase the shade by adding a canopy or growing climbing plants on the structure.
Support for Greenery
Pergolas make an excellent support structure for beautiful climbing plants like roses, ivy, or grapevines. This not only adds to the aesthetic appeal but also contributes to a healthier environment. Check out this article for some of the best climbing plants for pergolas.
Choosing Texas Landscapes for Your Custom Pergola
At Texas Landscapes, we specialize in custom-designed pergolas that enhance the beauty and functionality of your outdoor space. Our team works closely with you to understand your vision, ensuring the end result is a perfect blend of style and practicality.
From choosing the right materials to the final installation, we manage every aspect of the project with utmost professionalism and attention to detail. Whether you want a traditional wooden pergola or a modern metal structure, we have the skills and experience to bring your vision to life.
Conclusion
A custom pergola is more than just an outdoor structure; it's a lifestyle enhancement. It provides a space to enjoy the outdoors, entertain friends, or simply relax after a long day. With a custom pergola from Texas Landscapes, you can transform your outdoor space into an elegant and inviting living area. Contact us today to start planning your dream outdoor oasis.